Brian Schumacher – published on 05/08/23
In the everyday lives of everyday people Van Gogh saw a latent vivacity begging for expression.
Years ago a friend posed a question I've struggled to answer ever since: Why go to an art museum when you can look up the paintings online?
Today, I finally found the answer in the Van Gogh exhibit. It was well composed and they spared no effort to make the viewer feel fully immersed in the world of Van Gogh. Not only did I feel a tangible connection to the man through seeing the paintings he himself painted, but I was able to better see his brilliant use of color with each individual brush stroke.
That said, I left the exhibit with another question to ponder. Dispersed throughout the paintings were numerous quotes and facts about his life. One which I found to be particularly poignant mentioned Van Gogh's love for the land and its people, especially those engaged in manual labor. He saw them as individuals "illuminated by … a religiosity that sacralized the humility to daily toil."
In the everyday lives of everyday people Van Gogh saw a latent vivacity begging for expression. Through his brilliance with a brush he was able to express it in a manner that was both new and lasting.
One of these "everyday people" was the sower. With a sack hanging from his shoulder, he cast seeds into the field. The "action" of the painting is simple enough: a man doing his job. But why was I so arrested by this simple action? What was it that fixed my attention to the painting? Certainly I didn't think it was the most impressive painting — and yet — there I was, staring at it.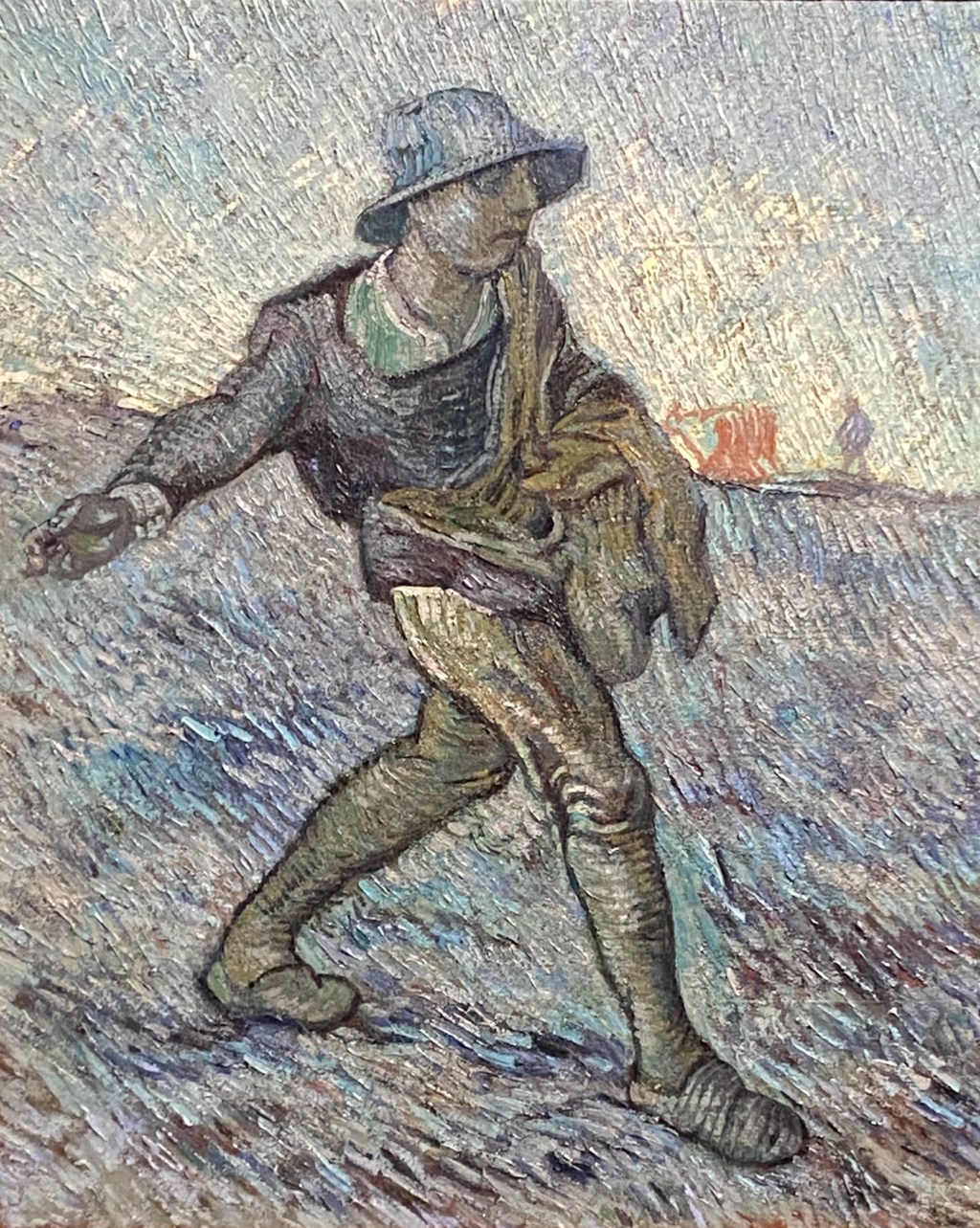 Vincent van Gogh (1853–1890)
It would be fair for one to describe the painting as dreary. The color pallet is drab with its use of blue and gray. Even the sky, which is not cloudy, is also not bright. The only thing I saw, however, was vibrancy. The man is dressed in the colors of the world around him … he doesn't appear to be working so much as dancing … and though the sky isn't bright it seems to be cheating toward sunrise.
The man isn't doing his job, he's living his vocation, nurtured by the very earth he manipulates. Captured in one moment on canvas is an entire drama played about between man and the cosmos.
Van Gogh was graced with the eyes to see the beautiful in the ordinary. He shared his vision with me personally when I saw that painting in real life and in real time. Because of that interaction I now ask myself frequently what dramas do I see unfold everyday that I merely dismiss as ordinary?